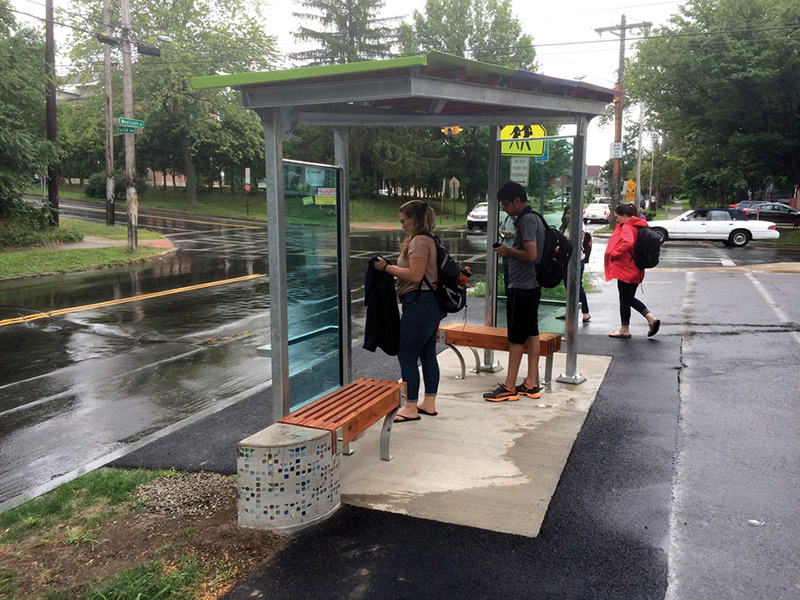 The Westcott Neighborhood Association (WNA) will host a ribbon cutting ceremony to celebrate the completion of a new bus stop enhancement, located on the northwest corner of Westcott Street and Euclid Avenue. The event will take place on Thursday, September 1 at 6:00 PM, just prior to the Taste of Westcott event hosted by the Syracuse University Office of Off-Campus and Commuter Services.
This project, which was funded by the University Neighborhood Service Agreement Advisory Committee (UNSAAC), was initiated by WNA in 2015 in an effort to increase safety at the busy intersection of Westcott Street and Euclid Avenue. The intersection is shared by pedestrians, bicyclists, motorists, and public transportation, but it lacked the necessary infrastructure to support safe sharing of the space.
The new bus stop enhancement was designed and installed by Echo, a multi-disciplinary design studio, in collaboration with students in the Syracuse University Department of Design and the City of Syracuse. Use of bright colors to match the Westcott Neighborhood brand and a variety of materials, including two original granite curbs, create a structure that is unique to the neighborhood, and the city.
"Our goal was to increase safety for residents while maintaining the distinctive feel of the Westcott Neighborhood," says Grant Johnson, president of WNA, on the design of the new bus stop enhancement. "We are thrilled to have it installed and completed before the start of the fall semester when bus ridership increases significantly."
The Westcott Neighborhood Association actively engages the greater Westcott neighborhood to strengthen the quality of life in the community. The public is invited to our monthly meetings held at Petit Library at 6:30pm on the second Monday of each month. For more info about WNA visit westcottsyr.com/org/wna/ or follow us on Facebook.