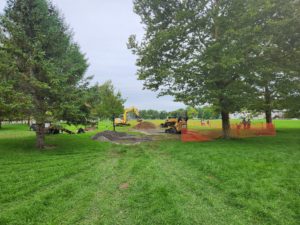 Ground is broken for Barry Park Shade Structure, September 16, 2022
Ground is broken and construction has begun for a new shade structure in Barry Park. There has been call for a simple structure to provide shade near the playground for some time, like the arrangement at Thornden Park (see photo below). The structure under construction is said to be a simple wood support open pole structure on a concrete base, with wood laminate supporting a low pitch gable roof. The project is paid for by the City Parks Department with capital improvement funds allocated for this work in previous budget years.
Several spots at the north end of the park were considered before choosing the location just south of Broad Street and the playground, not far from Meadowbrook Drive and baseball field and basketball court to the south. Families with small children who use the playground a lot in the summer have especially called for some type of pavilion for sun relief.
The recently formed Barry Park Association (BPA) has also discussed other additions to the park including benches, picnic tables and other shelters, but these are all unfunded and still in the preliminary discussion phase. The Association is comprised of community members committed to advocating and caring for Barry Park.  The BPA welcomes new members who will represent the varied users and uses of the park. The organization meets at 6:00pm on the first Wednesday of the month at the Barry Park Fieldhouse.
Barry Park is one the city's newer parks, but still, it is 65 years old. The Common Council designated the park as the William A. Barry Park in 1957. It is named for a former Commissioner of the Parks Department who was for many years assistant to Frank M. Westcott, the first Commissioner of Parks, whom he then succeeded in 1931. The playground at the north end of the park was dedicated in 2000.
As users of the Barry Park know, it consists of athletic fields and courts. There is a baseball diamond, 2 tennis courts, a basketball court and soccer fields. In recent decades the soccer fields have been especially busy as the main location for East Side Soccer.
The park is adjacent to Meadowbrook Detention Basin which is maintained by the County. This area with it winding 1.2-mile dirt/mulch paths around the basin which looks like pond, is a favorite spot for amblers, runners, and dog walkers. In this season the paths are busy with high school and university getting into the rhythms. While technically not Barry Park, planning of both the formal city park and country basin with its recreation paths and adjacent wooded areas need to go hand-in-hand.
Signup for Barry Park email updates here: https://gmail.us5.list-manage.com/subscribe?u=692d5873ceb0fa183904f3c1a&id=0e619c6172
Follow events on FB here: https://www.facebook.com/groups/531388541926089
Thornden Park shade structure.