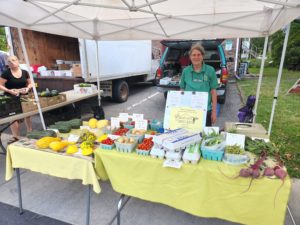 It has been fifteen years since farmers started selling directly to Westcott area eaters from their tables and tents in the parking lot of the Westcott Community Center on Euclid Avenue and Westcott Street. This year there are four venders; some old ones and a newcomer. The market is open every Wednesday afternoon from 2:00 to 6:00 pm.
September and October are the months for apples, peaches, pears, squash, and much more. Come and sample the fruits of the labors of the Brownson Family Farm of Kirkville (fresh fruits, and a wide array of delicious preserved veggies for winter), Treasures of Joy Farm from Nedrow, always an enticing selection of organic vegetables, and eggs, too; and Owen Orchards of Weedsport with a wide selection of fresh apples, peaches, pears, and other in season offerings. Soon it will be time for their delicious fresh pressed cider. This year these farms are joined by Amelia's Avacado Salsa with fruits and vegetables, but especially scrumptious salsas and spreads.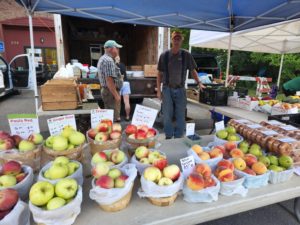 The Thursday and Saturday Regional Market on Park Street is always a treat, but our Wednesday market is convenient for walkers, and well worth a visit. Once is not enough – you'll be back through the season.