Stately Streets
Stop #01
Harvard Place
Built: late 19th and early 20th century
Architect: Unknown
Map This Location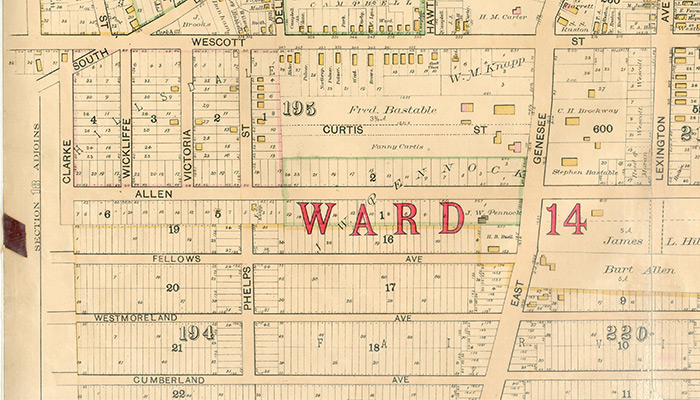 Map of the Westcott Neighborhood before before most development, 1892. Atlas of the city of Syracuse, Onondaga County, New York / compiled from official records, private plans and actual surveys. (New York : J.W. Vose & co., 1892).
Harvard Place is only three blocks long but it is a critical west to east artery off of Westcott Street leading to the former Nottingham High School, later the T. Aaron Levy Middle School at Harvard and Fellows Avenue. The street is also the boundary between several housing tracts developed in the late 19th and early 20th century. Harvard Place itself – originally called Phelps Street after banker and politician Dudley P. Phelps – includes a mix of houses from several decades and also includes close to Westcott Street several commercial establishments.  Phelps represented  Syracuse in the Assembly in 1853-54 and "was afterward treasurer of the county," and "was also for several years as treasurer of the Onondaga County Savings Bank and afterward president of the Trust and Deposit Company of Onondaga" died  just about the time the street was laid.
Phelps Street was already attracting residents by the early 1890s. Eight houses are shown as built on the 100 block on the 1892 insurance map, and we read a notice in the Evening Herald of June 25, 1894 "To Rent—NEW QUEEN ANNE HOUSE on Phelps street. Fourteenth ward with bath, furnace, gas,. Etc. Rent reasonable: new electric railway. F. A. Knoblach …." The 1893-94 City Directory lists many residents including Archer D. Babcock at number 109. He would soon move to the corner of Westcott and East Genesee into what is now called the Babcock-Shattuck house.
At least two obvious Queen Anne houses survive on Harvard Place, one on the south side near Westcott (120 Harvard Pl.), and another on the northeast corner of Harvard and Allen Street (557 Allen).
The name of Phelps Street was changed to Harvard Place in 1912 as a result of a petition from residents. (Syracuse Herald July 2, 1912) Apparently there was less red tape one hundred years ago, since the change went through by July 9, 1912.
Sources:
"The Roads of the City Syracuse, Number 66, How Members of the Syracuse Company Named Streets in the Fifth Ward – The Subsequent Changes and Why They Were Made," The Sunday Herald Syracuse, (January 15, 1882)