Stately Streets
Stop #19
536 Allen St
Built: 1915
Architect: Gordon Wright
Map This Location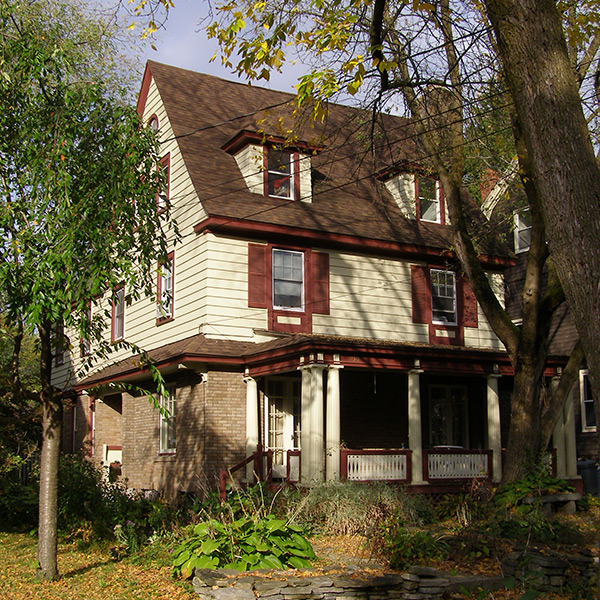 Gordon Wright (1866-1950), a prominent Syracuse architect who was trained and later taught at Syracuse University, designed this house in 1915 for Clarence A. Lawton. Many of Wright's houses are near Syracuse University (several in Berkeley Park), the eastern suburbs and James Street; most survive. An engineer and well versed in acoustics, he also designed the First Baptist Church and Mizpah Tower on Columbus Circle, Temple Adath Yeshurun (now Salt City Center), several schools and other public buildings.
This is a Dutch Colonial Revival adaptation, a style common between 1910 and the 1940s, with a steep side-gabled roof over a large attic with two front dormers and side windows. As usual with Dutch Colonial houses, there is overhang at the gable ends, which contrasts with the wide flared eaves in front.  The house faces east, its main entrance on the south side beneath a Germantown hood: a narrow, low-pitched roof supported by pairs of corbels along side walls and front porch. Two short settles face each other outside the front door, glass-paned with sidelights. A sitting porch stretches across the front, with ten fluted Doric columns (triple at outside corners) stylized with triglyph and metopes, a gambrel roof over the attic story, a feature often more visible in Dutch Colonial houses. First- and second-story windows are new, 6 over 1; attic ones original, 6 over 6. The north side has smaller windows flanking the chimney, casement windows in a middle space (on the stair landing), and door.
The original owner Clarence A. Lawton was a purchasing agent for Brown-Lipe Chapin Co. (which later merged with General Motors); he lived in it until 1919. Next came Dr. Albert C. Bickelhaup, a dentist, and later his wife Camilla and son Albert (1919-64); Ralph A. Cooper, a professor at University Medical College, and his wife Mary, active in schools and the community (1964-98); and Charliss Dolge, a stock trader (1998-2002), who updated the kitchen and bathroom and added the wonderful perennial garden and stone wall.