Gridded Garden
Stop #21
137 Clarke Street
Built: ca. 1910
Architect: Unknown
Map This Location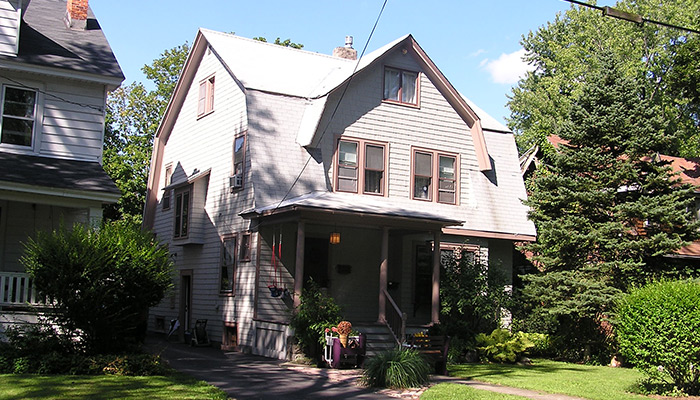 The Syracuse Post Standard of June 22, 1912, noted the sale of the "semi-bungalow" at 131 Clarke St. to John R. Wickes by the designer and builder, G. Everett Quick. While there is, in fact, nothing of the "bungalow" about house, it is a variation of a popular form of simple compact housing that provides a lot of living space. The builders could have chosen to erect a simple cubic Four Square house, but instead employed a more visually striking cross-gabled Dutch style gambrel roof.
Five similar houses by the same builder in the neighborhood were either sold at the same time or under construction. These houses were described as including "a large living room with open fireplace, dining room with built-in china closet, kitchen and large side porch. A small hall with open staircase leads to the four bedrooms and bath on the second floor. The prevailing finish is white and mahogany, with handsome single-panel doors. Numerous windows and clothes closets are features."
"These houses are noticeable for their compactness and convenience as well as artistic appearance."
An examination of the census data is revealing about the history of the house and the economic and social status of its owners and tenants. The first owner and his family appeared in the 1920 Federal Census as: John R. Wickes, 50, his wife Lillian M.B. Wickes, 47, their 15-year-old son William 0. and 11-year- old daughter Mary. Mr. Wickes' occupation was given as "assistant purchasing agent, manufacture." All family members were born in New York State. Their home was mortgaged. After seventeen years in the house, the Wickeses moved. No one else was ever to stay as long. They sold the house to François A. Peter, the grandson of Daniel Peter, founder of Nestle Chocolate in Switzerland. One year after they moved in, the Peters were included in the 1930 Federal Census. François Peter was then 32 years old and employed as a clerk in a savings bank. He was born in Switzerland and immigrated to the U.S. in 1921, where he learned to speak, read, and write English and became a naturalized citizen. He and his wife, born in New York, were married at the respective ages of 25 and 27. They estimated the value of the house in 1930 as $15,000. In response to the Census question, "Do you own a radio?" the respondents said they did.