Stately Streets
Stop #38
2118 East Genesee St / James Pennock House
Built: 1911
Architect: Albert Brockway
Map This Location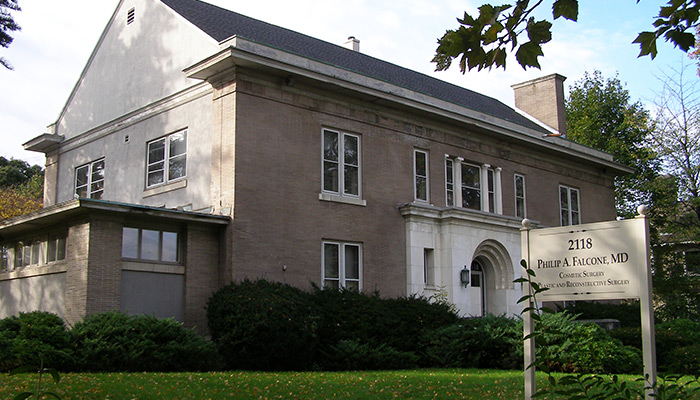 The once-impressive house was designed by noted architect Albert Brockway for James Pennock, the developer of this section of Allen Street. The palatial grey brick residence was erected at the end of the building cycle that saw the first development of the 400 block of Allen Street, and residential growth on nearby blocks.  A newspaper notice of January 22, 1910 stated that : Architect Albert T. Brockway is busy with plans for the Dunn-Salmon Building in West Water street and the J. W. Pennock house to be erected in Allen street."
A few days later (Jan 29, 1910) more information was provided:
 "Three of the finest houses of recent construction in Syracuse are going up in the Seventeenth ward according to plans and specifications by Architect Albert L. Brockway or this city. They are for J. D. Pennock at East Genesee and Allen streets and Andrew J. DeMott and Edward H. Dann in East Genesee street near Allen. All of these houses are architecturally beautiful and are being built of attractive materials with a choice selection of woods and decorations for the interior finish.

The Pennock House is very large. It is built of gray brick, manufactured in St. Louis, and trimmed with Vermont white marble. It is now ready for the roof which – will be a red Spanish tile. Mr. Pennock will get into his now residence some time during the winter…."
Brockway described the house as "American," perhaps a nod to Pennock's immigrant status. Another newspaper article in 1912 noted, however, that it has some Italian elements. The gray brick and white marble house combines motifs of the classically-inspired Beaux-arts house with motifs then-popular in the work of Frank Lloyd Wright and the Prairie School. These emphasized horizontal massing and surface simplicity.
A fire substantially damaged the house, causing the lose of most of the third floor and original roof form.
The Andrew J. DeMott and Edward H. Dann Houses, mentioned in the 1910 article, were demolished in the 1950s for the erection of the Jewish Community Center (JCC) on the north side of East Genesee Street just opposite Fellows Avenue. The JCC subsequently became the Paul Robeson Center for the Performing Arts. This was then torn down and replaced by the Van Kueren Square veterans' housing opened in 2014.
Sources:
"Work is Progressing Rapidly on Three Palatial Houses in the Seventeenth Ward," Syracuse Post Standard ( July 29, 1910)
" Has Completed Fine Residence,"  Syracuse Post-Standard (Jan 6, 1912)
"2 Landmarks Give way to Dwellings," Syracuse Post-Standard (Dec. 30, 1919).
"Mormon Church Moves to Sell OId James W. Pennock Mansion," Herald-Journal (Dec. 4, 1956).
Samuel Gruber, "Architect Albert L. Brockway on Allen Street," My Central New York (July 27, 2020).