The Old Neighborhood Part I
Stop #40
1900 East Genesee Street
Built: 1920
Architect: Unknown
Map This Location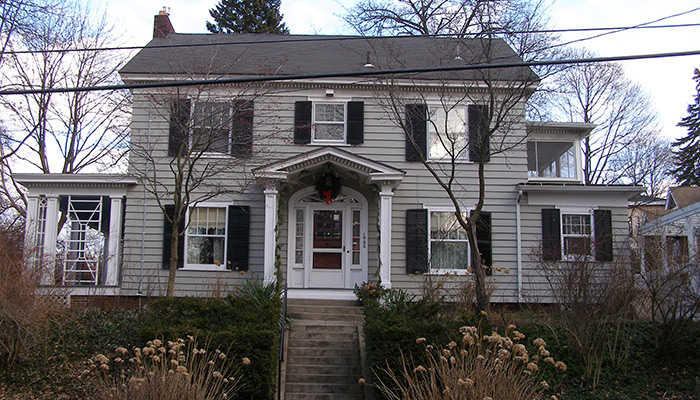 This side-entrance Colonial Revival house (entrance on west, facing Columbus Ave.) is an early example of what became one of the most popular American house patterns of the 1920s.  Similar houses can be found throughout the city, with many on Allen Street.  On many urban streets, however, due to the narrowness of the lot, the house is slotted in – showing its gable and chimney end to the street.  Here, one sees the full façade as it was intended.
Both the front (East Genesee St. facade) and entrance sides of the house are symmetrical. A fan window and side lights surround the main entrance door. The windows have 6 or 8 panes over 1, a common feature of Colonial Revival houses. Classically-inspired details include dentils along the roof moldings.  There are many simplified, mass produced Craftsman details, including the trellises on porch pillars, the details of the main door, the simple and solid interior moldings and staircase details, and the massive unpainted brick fireplace. A porch extends the width of the north side facing East Genesee Street; double French doors provide access from the living room. Originally a smaller porch faced the garden on the south, with a door from the dining room. 
The renovations of 1954-55 include the construction of a double garage from concrete blocks with overhead garage doors. The garage is partially underground and the drive is flanked by retaining walls.  The south porch was enclosed to create what is now the combination plant room and small sitting room off the dining room.  Over the years, shutters have been repaired, the foundation of the north porch has been rebuilt (it originally had a full basement under it, which has been filled when the new support piers were installed) and the deck has been partially replaced. A trellis was added at the Columbus Ave. end of the porch. In 1988, a rose arbor and fence were added south of the house.
Charles Tremper, who has owned the house since 1976, has augmented this with plantings in a lush landscape garden. Previous owners included Harry S. and Minnie E. Phillips, who occupied the house for twenty-one years from the time of its construction.  In 1954 the East Genesee Presbyterian Society purchased the house for their ministers, and carried out extensive remodeling.