Stately Streets
Stop #50
147 Cambridge Street
Built: ca. 1910
Architect: Unknown
Map This Location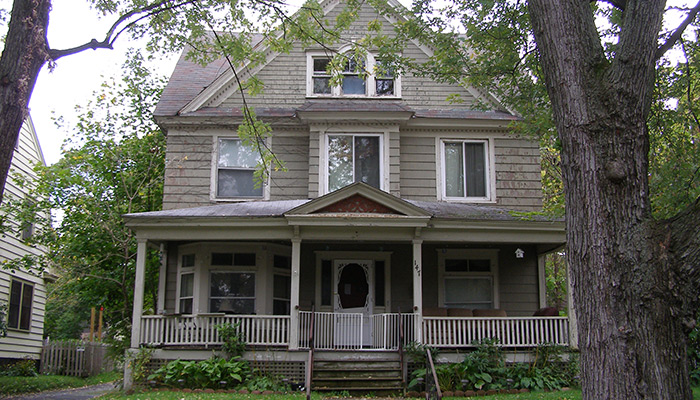 This two-and-a-half-story frame front-entrance single-family residence, is similar to number 137. Though it does not have the full Tuscan columns on the porch, The Cambridge Street (west) façade articulated with a pedimented gable with a Palladian window. A full width open porch  spans the first story, has four slender square wooden piers supporting a low hipped roof with a decorated pediment supported by the central two piers.  A chamfered bay projects onto the porch to the north of the door; this has a wider central window and a similarly wide window is symmetrically disposed to the south of the door.
On the second floor a rectangular central bay projects slightly and is alligned with the porch pediment and entrance. This has a large rectangular window and the bay is flanked by similar windows positioned above those on the first story.
The house is built on brick foundations and is clapboard sided, with cedar shingle siding in the gables. An exterior brick chimney rises against the north wall.
(Updated August 2020)