Our Westcott Community Garden
Our Westcott Community Garden
by Andrea Buckvold
Cicero is often quoted as having said, "If you have a garden and library, you have everything you need." In the Westcott neighborhood, we are blessed to have both.
The Westcott Community Garden was started over a decade ago with the help of Syracuse Grows.  Like all community endeavors, it has had boom years and bust years.  Gardening is an optimist's hobby, but a dedicated group of gardeners come out each spring in the hopes of reaping a harvest.
The Westcott Community Garden's structure is one of individual plots.  It is a first come, first serve process, where gardeners pay a $25 fee and are loaned a 4×8 or a 4×4 foot raised bed for the growing season, with the expectation that they will help maintain the community sections of the garden as well.  The garden can accommodate approximately 20 raised beds.  The gardeners are a mix of homeowners, renters and students living in the area. Some have been with the garden from its founding, others stay a season or two.  Typically, the garden group begins to organize in late April or early May, depending on the weather.  We meet to clean up the winter remnants, assign beds, add compost, and clear debris.  By June, most beds are planted, and those early bird gardeners can already be seen harvesting their lettuce. Even more ambitious gardeners might be harvesting garlic from the previous fall!  By late summer, beds are overflowing with produce.  A surprising amount of diversity can be planted in a small amount of space. Tomatoes, beans, and squash are favored by most gardeners.  Some plant kale or dill.  For the last two seasons, I only grew sunflowers, which are lovely to look at, make the bees happy, and can be harvested for seeds at the end of the season (and are also low maintenance!)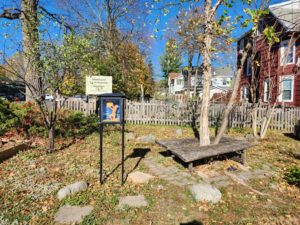 It is not, however, always sunshine and roses in the garden.  The Westcott Community Garden was founded with the help and guidance of Professor Evan Weissman, who died during the initial COVID shut down.  In the wake of this terrible loss, the garden lost its way for a bit, too, as we struggled to re-build our gardening community.  Being located off a busy business district is a great benefit for visibility, but it also comes with challenges.  Gardeners report that their harvest has been pinched – by people as often as animals.  Trash is discarded on the site. This ranges from the usual food remnants all the way to old furniture and other miscellany.  Lastly, like any volunteer group endeavor, rounding up people to make decisions and get work done in a timely manner can be a challenge.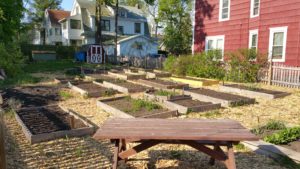 This fall, the current gardeners met at Petit Library to discuss the garden's future.  The group reviewed the by-laws from 2010, discussed challenges and expectations, and made plans for how to better run the garden in 2023.  Some structures that have been put in place are a Discord group for better communication (at least those who are digitally savvy), a sub-committee to update the by-laws, a delegating process for dividing the organizational workload to more than one person, and a commitment to make access to public and receptive to community input.  So, next spring, look for signage and calendar notifications for when the garden group will be meeting to organize for the 2023 garden season (at Petit Library.)  We always welcome new gardeners and anyone else who would like to see this little pocket of greenspace continue to be an oasis of growth in our community.
Andrea Buckvold is a longtime Westcott resident. She is an artist and teaches art in the Syracuse Public Schools. She is  a gardener and also secretary of the Westcott Neighborhood Association (WNA). You may have seen Andrea ladling hot apple cider at WNA's Halloween Dog Parade in October.
photos by Sam Gruber 2015-22
Leave a comment: