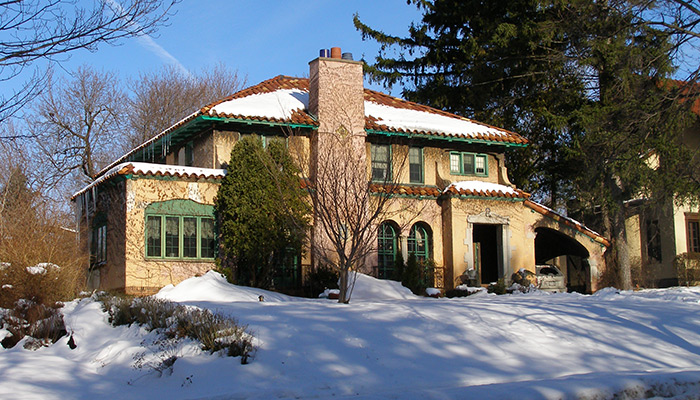 The Scottholm Tract is a Garden Suburb of approximately 49 acres located on what was the east edge of Syracuse approximately two miles east of downtown.  The entire tract was purchased by Amon Sanderson of the East Genesee Extension Corporation and developed as "Scottholm Estates."  The layout was noted designed by landscape architect Arthur C. Comey (1886-1954) in 1914. 
Comey was a disciple of Frederick Law Olmsted, Jr., and an active member of the second generation of professional American city planners who were influence by both the landscape architecture of the Olmsteds (father and son) and the City Beautiful movement of the early 20th century.  He graduated in landscape architecture from Harvard in 1907 and in 1909 he was named Superintendent of Parks in Utica, NY. He later returned to Cambridge, Massachusetts, and set up practice in the new profession of city planning. Comey won planning competitions in 1913 and 1914, and served widely as a consultant, as in Syracuse. According to Urban planning historian John W. Reps, "In 1914 he also began work on a study of suburban planning for the City Plan and Improvement Commission of Detroit. He also designed the garden suburb of Billerica, Massachusetts, a state-sponsored project. By 1917 Comey had served at least nine towns and cities, including Beverly, Brookline, Cambridge, Fitchburg, and Lawrence, all in the state of Massachusetts, and Woonsocket, Rhode Island."  In 1928 Comey was appointed lecturer in Harvard's School of Landscape Architecture where he continued to teach as Assistant Professor and Associate Professor in the Department of Regional Planning.

The tract has several designed landscape features, including its response to the local topography, its park-like main boulevard, ornamental street lighting, granite curbing, ornamental stone entrance gates, and the picturesque design and character of the houses. Scottholm was added to the National Register of Historic Places as an Historic District in 2012.

Just as the ornamental gates of the development set it apart from the city, not surprising for the era Deed restrictions and requirements also helped establish certain consistent standards of building, set backs and design, as well as racial uniformity (whites only). A deed covenant stated "Said lots shall not during the aforesaid period be occupied by or conveyed to negroes [sic]  as owners or tenants." At the same time, however, no stated restrictions were made on ownership by Jews and no hidden obstacles existed (as in many other parts of the country) to Jewish occupancy. Thus, Scottholm became the first upscale neighborhood in the city to welcome a significant number of Jewish residents – mostly successful businessmen and their families.
This tour includes a portion of the Scottholm Tract that was constructed between 1915 and 1940—that which most fully realizes Comey and Sanderson's vision for a Garden Suburb, built-out prior to the expiration of restrictive covenants that regulated the design of these private residences, and including the majority of the ornamental infrastructure that gives special the character to the neighborhood.
©2015 Samuel Gruber. All content is licensed under the Creative Commons Attribution-NonCommercial 4.0 International (CC BY-NC 4.0)